Mark your calendars.

The

Annual Meeting and Banquet

will be April 15th at the Ivanhoe Club. Members will receive invitations.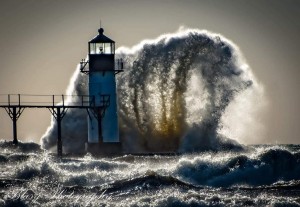 We found this on Sailing Anarchy. Click on the photo to enlarge. This is a picture taken of a wave crashing against the north pier at St. Joseph, MI last Wednesday, March 8 near sunset. For the fact junkies out there, the wind blew 40 knots, gusting 60 from the west with a fetch of only 51nm. The brown in the wave is sand pulled up from a depth of 20 feet. The lighthouse seen is 57 feet high with a rear range light at 53 feet. The 36 foot tall front range and light at the end of the pier can not be seen. Lake Michigan ain't a place for wimpy sailors!
2017 Race Schedule
- May 25th Pratice Race
- Series begins Thursday, June 1 and continues throughout the season on Thursday Evenings
- Series ends Sunday September 17 (1 race)
- All or One races are scheduled for June 10, July 8, August 5, and September 9.
- Patio Parties following racing are scheduled for June 29, August 3, and September 7.
See the Racing Home Page throughout the season for updated information.

More Articles ...