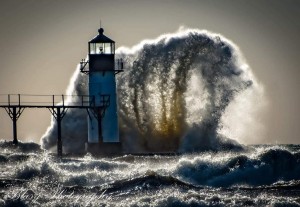 We found this on Sailing Anarchy. Click on the photo to enlarge. This is a picture taken of a wave crashing against the north pier at St. Joseph, MI last Wednesday, March 8 near sunset. For the fact junkies out there, the wind blew 40 knots, gusting 60 from the west with a fetch of only 51nm. The brown in the wave is sand pulled up from a depth of 20 feet. The lighthouse seen is 57 feet high with a rear range light at 53 feet. The 36 foot tall front range and light at the end of the pier can not be seen. Lake Michigan ain't a place for wimpy sailors!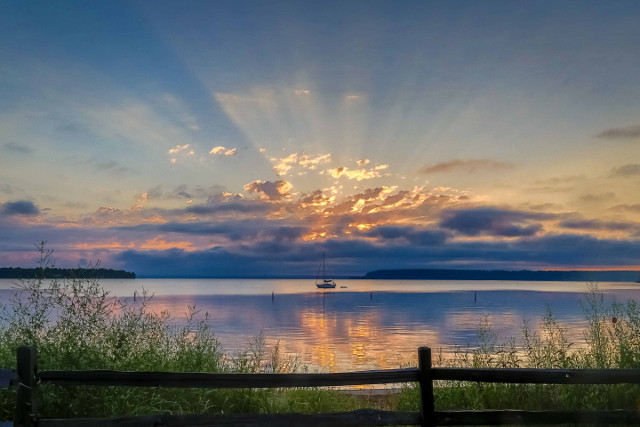 (click on photo to enlarge)
From Kevin: "This was taken by a camper in Peninsula State Park while I was anchored in the bay there during my three week cruise this summer. The picture was taken at sunrise while I was still asleep. A storm was approaching, all the other boaters departed the night before leaving me alone for the night. I know I was asleep when this was taken because the first thing I do when I get up is to turn off the anchor light. I woke up as the wind shifted and the waves started to build. I departed the anchorage a short time later. I returned to the bay a few days later and the camper paddled out in a kayak and asked for my Email address so he could send it to me. This is probably the most spectacular picture anyone has ever taken of my boat."