A visit to Fayette State Park

(or what I did on my summer vacation)

By Kevin Novak
For those of you who have never been to Fayette, it is a charming destination in the upper peninsula of Michigan, located on the Garden Peninsula on the shores of the Big Bay De Noc. It has a natural harbor known as Snail Shell Harbor because of its shape. Unfortunately no tour boats are currently visiting Fayette on a regular basis from Door County and it is a fairly long drive around the Upper Peninsula to get there by car and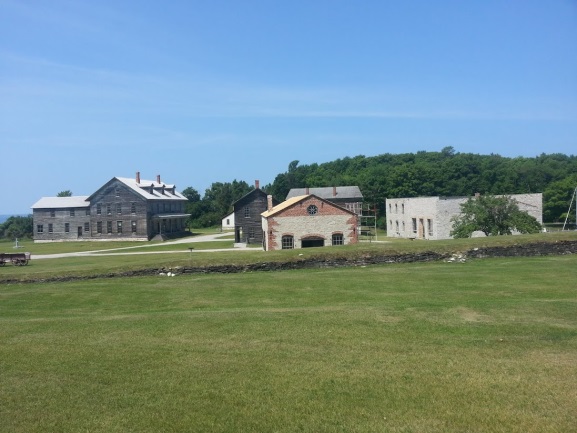 it takes the better part of a day to travel there by sailboat from the cruising grounds of Door County. However this is a destination for boaters looking for an experience that is not typically available on the great lakes. For those of you who have been to Fayette in the past, it has changed much in the last 15 years and is worthy of another visit.
When Fayette first became a cruising destination, many of the buildings were undergoing stabilization to prevent further deterioration from the years of neglect. Now the Park is undergoing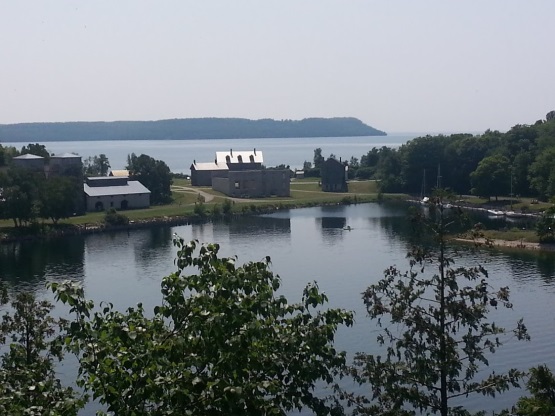 restoration efforts to return the surviving structures to the period when Fayette was a bustling iron smelting town. Years of research has uncovered a wealth of historical information about the site. This information has been added to the many placards that are located around the site and has been used to construct an accurate scale model of the site when it was in operation. This model accompanied by an audio track describing the site is on display in the visitor's center. Fayette is intended to be more of a historical site or museum than a tourist attraction. The site documents the early days of the industrial revolution and the struggles of immigrant's as they arrived on the shores of America with little more than what they could carry with them. It also has many examples of the crafts and basic skills needed to make do with what was available.
Making do is a skill that has almost been completely lost in our off the shelfdisposable society. The histor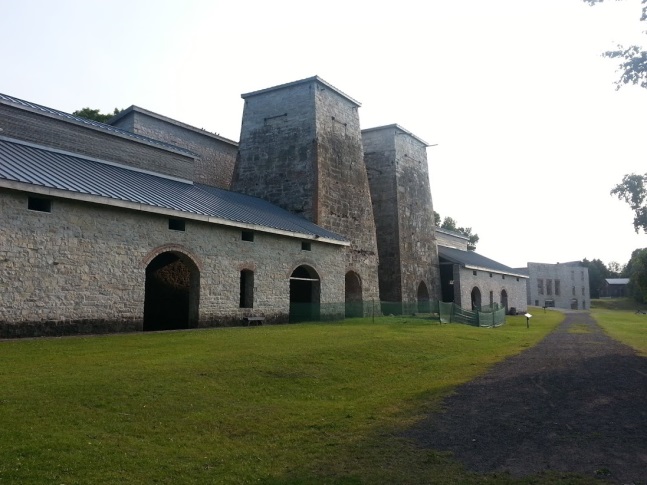 ical images contained on many of the information placards located around the site show what the area looked like while it was operational. Comparing the historical images with the current views of some of the surrounding bluffs you can to see the recovery that Mother Nature has made. It is amazing to see the buffs are now tree covered, where they had been bare rock, having been stripped of the trees needed to make charcoal for the smelting process used at that time. This knowledge provides a certain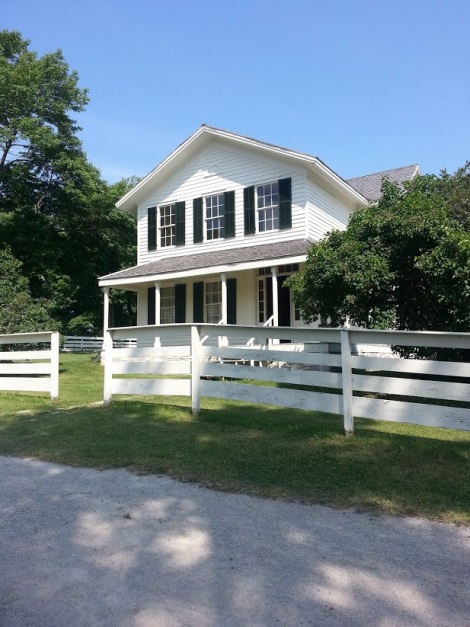 level of comfort knowing that it is still possible to undo some the damage that man has done to this world. As for man's improvements to this site, the furnaces have been stabilized with roofs to prevent ice damage during the winter and the casting sheds have had their stone walls repaired and roofs restored to the structures. The superintendent's home has been restored, cleared of the encroaching trees/brush and is now open for viewing. The hotel lobby has been restored to appear as it did in a surviving photograph. The guests' rooms on the upper floors are currently undergoing restoration. Even though many of the informational placards mention the hotel's two story outhouse as its most prominent feature, the author was disappointed to see that the outhouse has not been rebuilt. The music hall has been restored and is now open for viewing. Some of the signatures of the performers have been preserved back stage. My daughter found it amusing that the practice of the cast and crew signing the back stage wall was as common back then as it is today.

Despite the many improvements there are some things that haven't changed. What hasn't changed is that there aren't many services available. There are no slips and no reservations. You won't know what dockage will be available until you arrive. Rafting two deep is mandatory on the dock if it is filled. Anchoring in the center of the harbor is also possible since it is well protected

from all possible wind directions. There isn't any water or electricity available at the dock. One of the most welcome improvements is that the visitor's center has flush toilets for those that loathe using a head or a pit toilet. Ice is typically available at the visitor's center instead of being driven in once a day from Escanaba by a local merchant. However anyone considering traveling there should bring everything that they need because there is no guarantee that you will be able to obtain supplies locally. For instance the author managed to purchase the last bag of ice on the state park while there. It would be several days before they were restocked. There are no shower facilities so when needed, campers and boaters only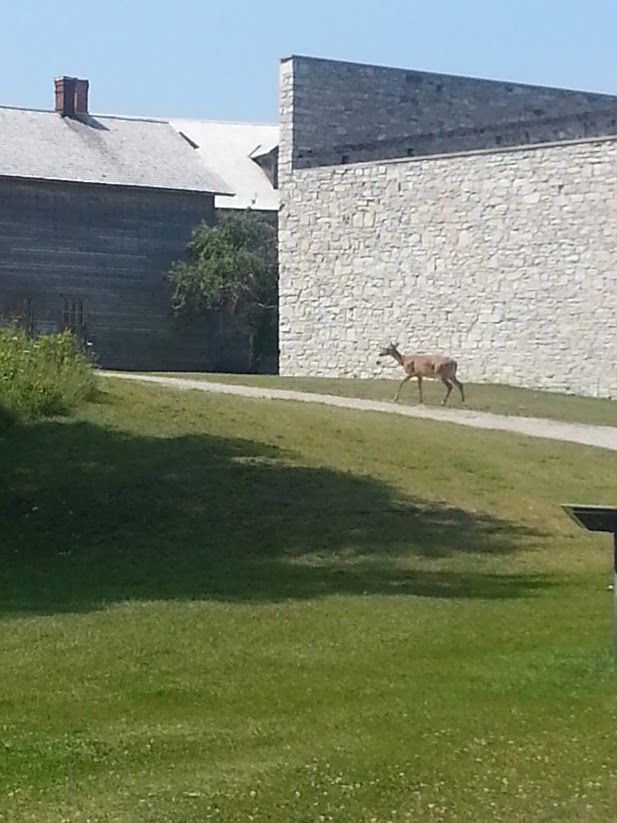 option is to use what they have brought with them (how many of you have actually tried to use the shower on your boat if it is so equipped?) or to resort to bathing in the lake which is typically a very chilling proposition and is best done with a product known as "soap on a rope". Since there is no electricity or internet access this location, staying here is a good way to disconnect from social media for a few days and experience a simpler life that is less engaged with personal electronics. It also provided some quality father/daughter bonding time for us. Everywhere we went we found little things that surprised us. For instance on our second day there, we were graced with the presence of a deer slowly grazing her way along the edge of the path a few feet from where we were having our morning coffee. We quietly watched her eat and she occasionally checked how we were doing with our coffee.

Fayette has always been one of my favorite cruising destinations even though it does take an effort to get there. A close check of the weather should be done before heading north from Door County to the Garden Peninsula. This trip requires crossing both Death's Door passage and Rock Island Passage with few options for refuge from the squalls that are common to these waters. Fayette may not be worthy of an annual visit but every effort should be made to reach this destination every few years to check out the ongoing restoration.